CH MACM GLAD
The first example of our search for top bulldogs is Macm Glad. Glad was purchased from Marcello Mesquita of Macm Bulldogs - Brazil -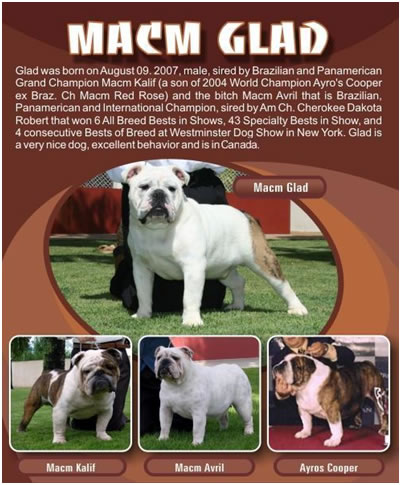 Glad has a star studded international pedigree that had us impressed even before we met him.
Glad is not only a much loved member of the family, but he is one of the soundest, best moving, bulldogs you will ever see. This dog fairly radiates good health. He is also a rubber ducky thief and a playful friend of our granddaughter.
We thank Larry Clark for successfully showing Glad to his Canadian Championship in 2009.
He reports that Glad was not only the ultimate showman in the ring, but was a great ambassador for the breed everywhere he went, greeting everyone he met with affection & good humour. He says Glad is just a "very cool dog." We certainly agree.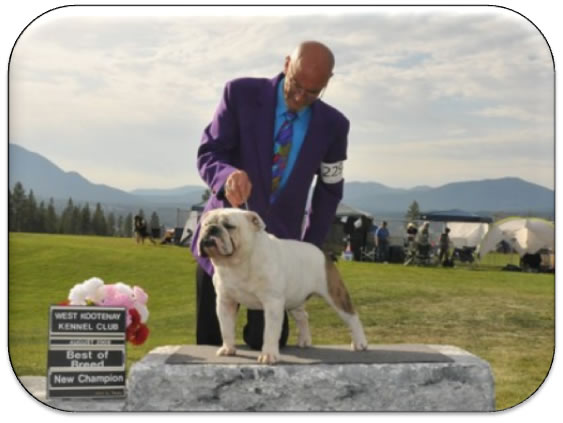 NEW CHAMPION!!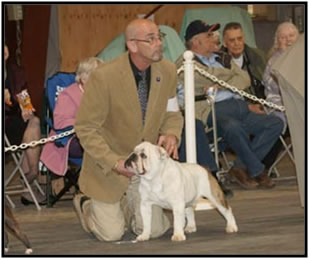 Now that Glad has finished his show career, his future is doing what a bulldog does best. Lying around the yard with a stolen ducky, drinking out of the fountain, & ultimately passing along his genes to a new generation. We can't wait to see what he produces.